I-cord on DPNs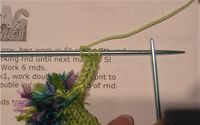 The magic I-cord

I have discovered a number of interesting things working on
this cup cozy
. First, I have the patience of a saint (haha). I ripped it twice in my attempt to work the double increase
Mariko
calls for. I even had my mom look at it; she tried it on #13 needles with chunky yarn so that we could see what she was doing (she used a highlighting pen to mark the stitch she was working with, which cracked me up, but hey, it worked! We figured it out).
Secondly, I found my
Reader's Digest book
to be the most helpful in an emergency (so much for my love of Vogue Knitting).
Thirdly, the old adage of "just follow the directions, even if they don't make sense, and go with your gut if it seems off" proved true in two instances: working the increases, and making the finger holds (did that this morning while Tess took a bath).
I realised as I used the double-pointed needles that the yarn was on the "wrong" (left) side (see above) as I moved the stitches over. However! I remembered from an advanced beginner class I took last summer (that $20 class fee is finally paying off) that the instructor was very excited about making I-cord fingers for
gloves
with this method. I didn't see it as a "mistake" but as a cool way to make the finger holds.
I don't know if Mariko intended it that way, but I like the way it's working. I hope to get some coffee while we're at the mall this afternoon (Carrie's order came in and I have to get
Karen's
stuff, as well as hook up with another gal who is having a party in March) so I will be sure to take my new cup cozy along and get a full picture of it!