Evening off
Nothing like an "evening off" to refresh my mood. I took off last night despite the crummy weather as soon as E got in and sat down to dinner. I took his SUV so that I could get through the roads and headed to
Knit A Round
.
Closed
-
bummer
. I was hoping to start a new Irish Hiking Scarf in
Cascade 220
. Gorgeous colors and plenty of yardage (and, at $6 a skein,
inexpensive
- our key word from yesterday). But alas, the universe interfered with my knitalong plans yet again. Mom's in town this weekend, though, so I shall return to a yarn shop - any yarn shop! - and not be daunted. It's turned out to be a quick, fun pattern to knit, so I should be able to start a new one in another color (with enough yardage!) to still get it done by the deadline.
Speaking of Ireland (sort of), I have been been inspired by
Karen D's latest entry
about synchronicity~messages from the future~weird symbolism, and found a number of signs of my own to interpret. First, the Irish Hiking Scarf, then the finishing of Andrew M. Greeley's
Irish Gold
. I was ready to throw this book across the room on a number of occasions (horrible repetitive writing, two-dimensional characters, I'll never read another) except that it made me nostalgic for my trip to Ireland, back in 1988.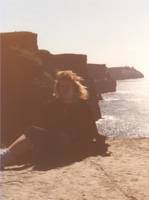 On the Cliffs of Moher
Hanging out at Windmill Lane (catching a glimpse of Larry Mullen, U2's drummer), getting used to the taste of Guiness (still love it), classes at Trinity College (it was a summer studies program), my host family's Corgi (still love that breed), my lonely trip to Galway & the Cliffs of Moher (got my
Unforgettable Fire
cover shot - see above) because I promised my mother I would not travel to the North of Ireland (and my roommate/buddies were headed to Belfast that weekend), O'Brien's tower, (many) ruins of abbeys and cathedrals, Celtic crosses, walking around Dublin (and around, and around, and...we had to walk everywhere) after taking a green double-decker bus (#62) from Goatstown Road...I could go on (I think I have)...
That's a scrapbook I have yet to put together. Gotta find my negatives and get my memorabilia out of the magnetic album I (still) have them in. Ouch - acid eating away at everything...
After my disappointment on north campus (where Knit A Round is), I headed to downtown Ann Arbor for a taste of my winter vice - Seva's (vegan) Cocoa Cake, and a cup of decaf coffee. Can't resist. To burn it off, I walked the two blocks to Borders flagship store (store #1, where it all began).
Something I read online yesterday (spent waaay too much time online yesterday) made me think of looking up Proust - I've never read his work. I found an inexpensive mass market of the first volume of In Search of Lost Time (a.k.a. Remembrance of Things Past),
Swann's Way
, only $6.95. The original translation (1954?) of the first volume was $20, and I am all about saving money (see yesterday's entry).
There was an even newer (2000) translation but it was still $14. I realized after deliberating for 20 minutes that I just need to READ it, I am not a translation snob, so I went for the cheap (1981) version. To be sure, I compared the first couple of pages of that to the 1954 version, and they were virtually the same, except for some flowery language in the older one (which I'm happy to avoid).
On my way to checkout, I came across a book (hardcover, $22, no thanks) that cracked me up,
French Women Don't Get Fat
. I'm part French (paternal grandfather) and have always wanted to visit France, so I picked it up out of cultural curiosity (not that I'm also looking for diet tips, heh). The chapter on chocolate made me laugh out loud, but I'll wait for the trade paperback version.
Ireland and France - lots of travel signs for me. Not that I can do anything about it, but it's nice to dream.